Yuma is in Western Arizona. It is in Yuma County. The town is located on Interstate 8 in the southwest corner of the state. It is on the border of Arizona and California, along the Colorado River.
If you are coming from Phoenix, you take Interstate 10 west to State Highway 85. Then head south on State Highway 85, until it meets Interstate 8. Travel west on Interstate 8 to Yuma. If you are coming from Parker or Lake Havasu, take Highway 95 out of town and head south until you come to Yuma.
Yuma is a unique town. It's location near the Mexico border and Colorado River offers alot of entertainment. The town is also rich in history. The land around Yuma is very fertile. There are over 200,000 acres harvested a year. Broccoli, lettuce and cantaloupe are the most common crops planted. Dates and Cotton and Orange groves are also common.
Yuma is also home to military personnel. The Marine Corps Air Station has 5,000 individuals training and working. The Yuma Proving Grounds has all branches of the military conducting research testing.
Today, Yuma's population is 65,000. The town sits at an elevation of 200 feet. The climate is mild in the winter with average lows in January of 44 degrees and hot in the summer with average highs in July and August around 106 degrees. The town does receive annual precipitation of close to 3 inches. Yuma is in the Sonoran desert. Yuma is known for its beautiful sunsets. Yuma Territorial Prison Park below. . .

There are two elementary and middle school districts in Yuma. The Yuma Crane District 13 is located at 4250 West 16th Street or call 928-782-5183. The Yuma District 1 is located at 450 West 6th Street or call 928-782-6581. Yuma has one high school district. The Yuma Unified High School District 70 is at 3150 Avenue A or you may call 928-726-1731. Yuma is pleased to have a Junior College in town. Arizona Western College offers a two-year Associate Degree of Arts and Applied Science, along with vocational
certificates. The town also offers classes from Northern Arizona University. This program is for both undergraduates and graduates.
Yuma Regional Medical Center offers care from family practice to neurosurgery. The hospital has 257 beds with over 120 physicians available. The Center provides convalescent, hospice, emergency, day care and senior citizen services for the area. Yuma has many specialists that can help from dentists, osteopaths to surgeons. Yuma Regional Medical Center can be reached by calling 928-344-2000. If you have any health questions, you may call the Health Department at 928-329-2220.
The city has water services provided by Far West Water Company at 928-782-1247.
If you need information on natural gas, you will need to contact Southwest Gas at 928-344-2901. For
information on propane, you will need to call Northern Energy at 928-344-0771.
Both US West and AT&T provide communication services to Yuma. US West can be reached by calling
1-800-244-1111. AT&T can be contacted by calling 1-800-222-0400.
The utilities are available through Arizona Public Service at 928-782-7151.
The city of Yuma provides trash services, if you want more information you may call 928-782-1287.
The Yuma Police Department is available for non-emergency help by calling 783-4421.
If you need to get in touch with the Fire Department in Yuma, you may call 783-4461 for non-emergency
issues.
There are alot of local newspapers available in Yuma. The Prospector Magazine is at 100 East 24th,
Suite B, 928-782-7070. The Supershopper is located at 1203 West 16th Street, 928-783-1201. The Yuma
Daily Sun is at 2055 South Arizona Avenue, 928-783-3333.
Yuma has several television and cable/satellite providers. Century Communications at 1-800-626-6299 or
Prime Star Satellite at 1-800-278-3142 or Superior Satellite at 928-342-3474.
You will find many financial institutions in Yuma that will meet your needs. Bank One of Arizona is
located at the Yuma Financial Center, 170 West 16th Street, 928-343-4250. National Bank of Arizona is at
1800 South 4th Avenue, 928-782-7505. Norwest Bank is located at 1599 South 4th Avenue, 928-783-8836.
These banking institutions are just a sampling of the many in Yuma.
Yuma offers over 90 place of worship. You will find every major religion represented in town.
There are nine parks, seven athletic fields and seven recreation centers in the Yuma area. For information on locations and activities you need to contact Yuma Parks and Recreation, at 928-783-1284. Swimming pools are a popular hang out in the summer. Carver Pool at 5th Street and 13th Avenue or Kennedy Pool at 24th Street and Kennedy Lane or Marcus Pool at 5th Street and 5th Avenue are the three swimming pools that serve Yuma.
Yuma has 13 diverse and challenging golf courses. The following is a short list of just a few of the courses that you might enjoy.The Mesa Del Sol Golf Course is located at 12213 Calle Del Cid. It is an 18-hole championship course. It offers a pro shop, lessons and a driving range. A seven day advanced tee time is available. If you want more information on this course, you can call 928-342-1283. The Desert Hills Municipal Golf Course has been rated top in the state. It has 18-hole championship layout. The course also provides a driving range and a pro shop. Desert Hills also has a restaurant, lounge and banquet facilities. There is a PGA staff that hosts lessons and clinics. It is located at 1245 West Desert Hills Drive, 928-344-4653. Arroyo Dunes Golf Course is located at 32nd Street and Avenue A. It is an 18-hole course with a driving range and a pro shop. Call 928-726-8350 for more information.The Yuma Golf and Country Club is at 3150 South Fortuna Avenue. This is an 18-hole golf course. It provides its visitors with a driving range, food services and a pro shop. You may receive more information by calling 928-726-4210. Outside of Yuma in Somerton, there is the Dove Valley Public Golf Course. It is at 220 North Marshall Loop Road. This course has 18 holes along with a driving range, pro shop and food services. For information on the course and how to get there, call 928-627-3262.
The Yuma International Airport has a newly constructed passenger terminal. The airport hosts a travel agency, gift shop, restaurant, parking and delivery services. United Express has flights to and from Los Angeles and America West Express has flights to and from Phoenix. Rental car agencies are also available at the airport. The town does not have public transportation, however Dial-A-Ride is available for $5 per trip. You have to call Dial-a-ride one day before your trip, but its cheaper then a regular taxi. (928-539-7076) Taxis are available.Taxicab numbers are below.......
AAA Taxi
1350 S 3 Av Yuma AZ 85364-3658 (928) 782-4444
American Shuttle Express
2801 S 4 Av Yuma AZ 85364-8179 (928) 726-0906
City Cab
1350 S 3 Av Yuma AZ 85364-3658 (928) 782-0111
Dial A Ride
1495 S 4 Av Yuma AZ (928) 539-7076
Miracle Cab
901 E Estrella Ln Yuma AZ 85365-2405 (928) 344-4444
Oasis Taxi & Delivery Service
Yuma AZ 85364 (928) 329-6360
Saguaro Transportation Services
1495 S 4 Av Yuma AZ 85364-4603 (928) 783-6069
Taxis Isabel
1290 W 3 St Yuma AZ (928) 539-0070
Yellow Taxi
1105 S 5 Av Yuma AZ 85364-3839 (928) 783-4444
Yuma City Cab
1350 S 3 Av Yuma AZ 85364-3658 (928) 782-0111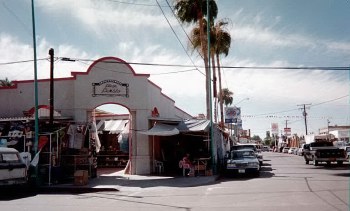 AlGadones,Mexico
When crossing the border into Mexico there are some things to keep in mind. For U.S. citizens, passports are not required for visits less than 72 hours within 75 miles of the border. Individuals under 18 years, who are not accompanied by a parent, must have a signed consent affidavit signed by both parents. If traveling with one parent, signed affidavit is required from the absent parent. Pets are usually allowed with verification of rabies vaccine within the last 6 months. American citizens/residents must declare citizenship and purchases when re-entering the United States. Purchases up to $400 per person are duty free, so is one quart of liquor and one carton of cigarettes.
Any purchases over $400 will be taxed. When driving into Mexico, the Mexican authorities will issue a temporary vehicle permit. The owner or lessee must be in the vehicle and be prepared to present the following: appropriate immigration form, certificate of title, vehicle registration, rental leasing form or bill of sale, proof of employment (if driving company car), valid driver's license (outside of Mexico) and an international credit card. It is strongly recommended that Mexican Auto Insurance be purchased before entering Mexico. This insurance can be purchased in Yuma or at the Mexican border. For more information on crossing the border, you can call the U.S. Immigration Service at 520-627-8816.
If you are moving to Yuma, there are several agencies that help individuals find employment. The Arizona Department of Economic Security at 201 South 3rd Avenue, 520-783-1221 or Hunter Employment Services at 2450 South 4th Avenue #306, 520-726-3911 or S.O.S. Staffing Services 1020 South 4th Avenue #201, 520-782-1683.